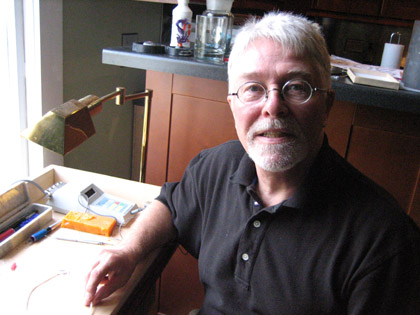 Maurice Milleur's Pewter Graphics Inc. began in 1985. It stemmed from his interest in how to make a sterling silver trim to cover the base of a chipped antique vase he owned. A local pewter smith suggested he try pewter instead of sterling and this was Maurice's introduction to working with pewter. Living in the south, there is an abundance of anole (chameleons) in the gardens and this "Lizzy" was a fascination as Maurice was from Belgium where they did not have such critters. His first successful pewter creation was the making of his "Lizzy". He taught himself wax carving, mold making, and pewter casting and then the opportunity came to purchase the casting equipment. The hobby became a business in 1985 when he began to make corporate logo's in pewter on glassware for businesses, and the name "Pewter Graphics" was created. From this he turned to creating designs that were of local interest and heritage and incorporated his business in 1994 as Pewter Graphics Inc.
Maurice Milleur, Pewter Graphics Inc., has since earned a life member in the renowned Craftsmen's Guild of Mississippi, has provided works for the Governor's of Mississippi and Louisiana, has had his work in the Smithsonian Museum gift shop, and created the Nation's Inaugural Luncheon Gift for the guests at the President's January 20, 2005 Inauguration at the U.S. Capitol.
The handcrafted pewter designs of Maurice Milleur, Pewter Graphics Inc, are an enduring value in easy care, highly polished, lead-free pewter. Maurice meticulously sculpts the design in wax from which he makes a bronze model through lost wax casting. The raw bronze is intricately tooled and polished to maintain the design detail of the wax. The bronze is used to make a limited production mold for the pewter hand castings and the designs are signed. The pewter is hand cleaned, polished, and assembled in his studio.
Maurice Milleur resides on the Mississippi Coast, Portland Oregon, and in New Orleans, Louisiana but is originally from Spa, Belgium from which his European background distinctively mixes with Southern traditions, the Coast, and Nature, the predominant subjects of his design collections. His works include pewter jewelry, and pewter accented tabletop and glassware, home décor, and desk accessories.
The major themes of his work include Fleur de Lis, Mardi Gras, Coastal, Equestrian, and Botanical.